New customer Ongoing Subscription offer: enter promo code '

SUM25

' to enjoy 25% off discount on the first flower delivery service.
Let's start your flower journey!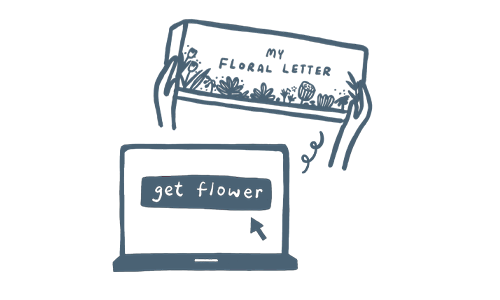 Every 2 weeks or monthly, we'll bring you a box of beautiful blooms.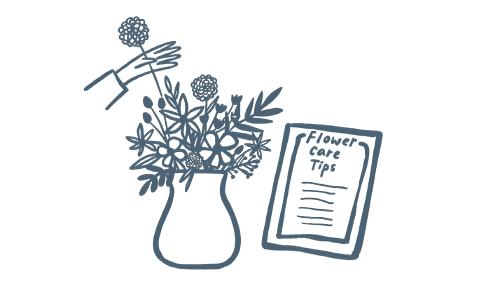 We'll teach you how to arrange each bunch of flowers on YouTube.
Going away? You can skip any deliveries you like using your online account.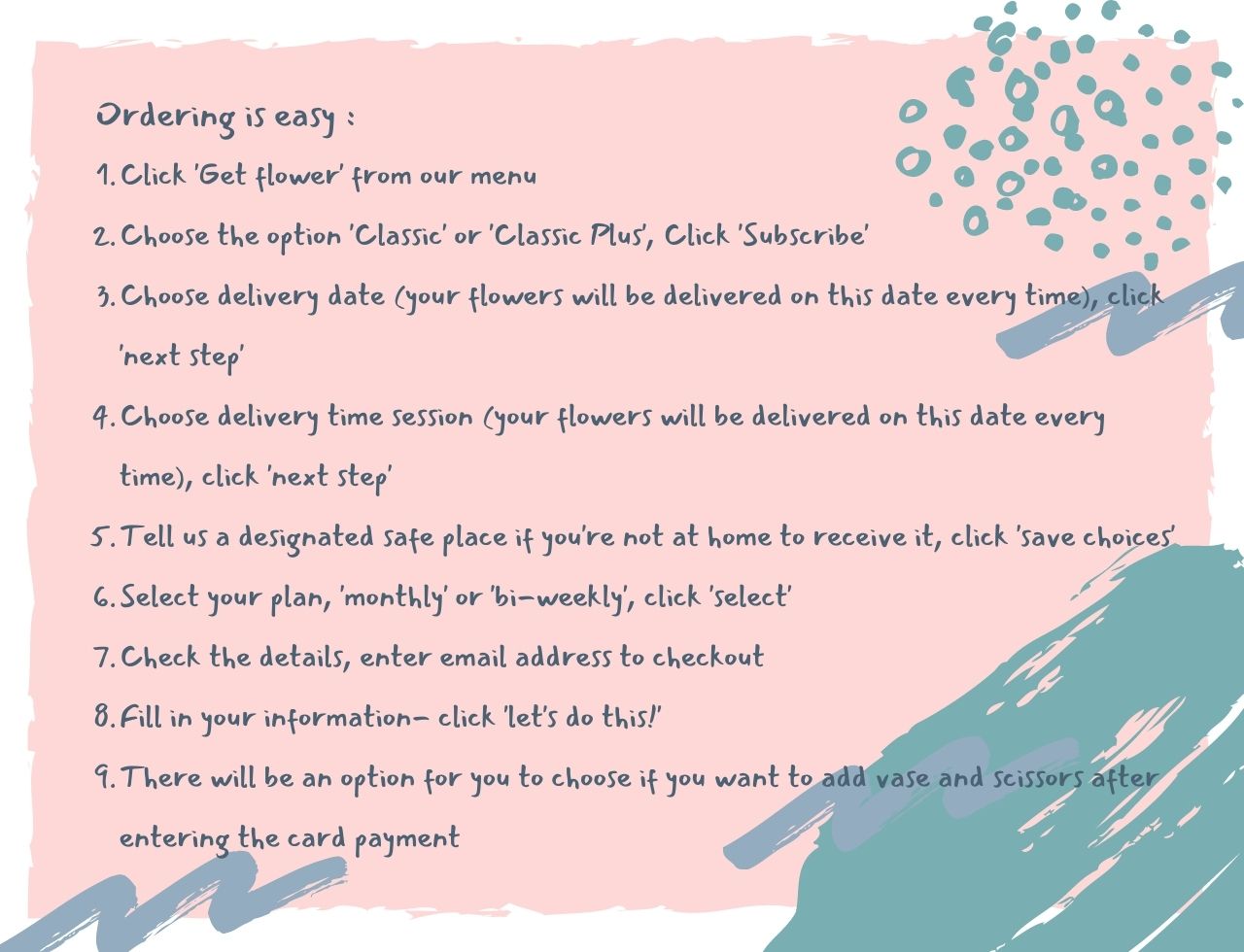 Few more important points:
We send our blooms dry so they will be thirsty when they arrive.  It is essential to take good care of them once they've arrived to prevent it from wilting.
Each delivery comes with our Flower Care Tips and we will also prepared a video uploaded on YouTube, showing you how to arrange each week's flowers. You'll be a floral design guru in no time! 
You can choose your delivery date as below:
First week of each month : Monday or Friday
Third week of each month: Monday or Friday
If the delivery date falls on a public holiday, delievery will moved to the day before or after. Please refer to our delivery schedule.
Delivery time slot can be chosen from one of the below:
9:00-13:00/ 13:00-17:00/ 18:00-21:00
Once you have made your first order order, we will deliver your flowers on the same weekday and at the same time period each month.
For bi- weekly orders, we will delivery your flowers on the first and third week of the month. 
If there's no lift at your building, we will hand deliver flowers to you on ground floor.
If you are not in, we'll leave your flowers at your designated safe place suggested by you when you placed the order.  Please understand that once we have delivered at your designated safe place, we are not responsible for any damage or loss. 
Delivery Fee: 
All locations --- $50
Delivery service is not available in the following areas 
Outlying island, Ma Wan, Chek Lap Kok (including Hong Kong International Airport), Hong Kong Disneyland, Discovery Bay, Ngong Ping 360, Cheung Chau, Lantau Island, Mui Wo, Tai O, Peng Chau, Lamma Island, Ta Kwu Ling, Mai Po, Tsuen Wan Slaughterhouse, Shenzhen Bay Port, Lok Ma Chua, Man Kam To, Sha Tau Kok, Lo Wo, Lok Ma Chau Spur Line and prohibited areas.
If you want to send a box of flowers as a gift to a friend,  you can do so at the payment checkout page where there is an option 'This is a gift'.  You may also choose the number of times and date you would like to send to the recipient.   Let us know the message you would like to deliver and we will write it on the message card for you.